HeadLight is a mixed-reality display system that consists of a head-mounted projector combined with spatial tracking and depth inference.
HeadLight uses a Vive tracker to track the head pose of the wearer.  Combined with the depth information of the space in front of the viewer, this enables the wide-angle projector mounted on the viewer's head to projection-map the room and the objects within it, with a working 3D illusion from the viewer's point of view.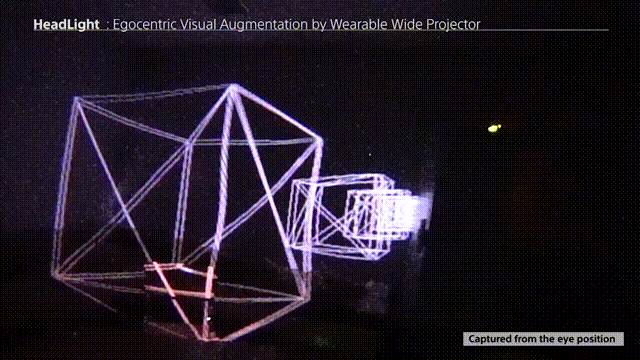 Speed of Light is short film created using two pico projectors and a movie camera.  The pico-projectors are used to project animations of the things in the movie onto the surfaces of a room.  By moving these animations, the sharp & jenkins turn the room into a movie set for these mixed-reality "characters."  This piece could have come out of just experimenting with stock footage on a black background, or through extensive planning and creation of the animations to match up to the scenes.
GVBeestje is a sticker used to activate a game on the Amsterdam transportation system (the GVB).  It consists of a set of stickers of a beest, that invites the viewer to play by using the parallax between the fore- and background to position the beest by moving their head and eat the people the bus is going past.
In all of these projects, there is exploration of some non-traditional ways of activating a space, much in the way the "AR" or "MR" does.  The GVBeestie is successful in operationalizing the latent interaction of parallax the rider experiences daily into a game using nothing more than a sticker.  Speed of Light is an interesting concept, however the film itself is relatively uninteresting.  The idea of it arising out of play, or creating some tool allowing one to play in this way is more exciting than the film itself.  the HeadLight is an ugly and cumbersome device, with sub-par tracking (even in the official documentation video).  The single-user nature of it is interesting, as is the notion of augmenting space in an egocentric way that other people can see, having their space be overridden.